I always found with music,  sometimes u have to change your groove up to get your groove up – buy a new synth, change scenery, hair,  beats, girls (in extreme cases HA)…do something to keep the juices flowing.  Same with art.  
Headed to Mecca 2morrow (Pearl Paint)  to get down on some new Mafioso sizin', Biggie stylin', Diddy "I Am King" cologne smellin' Oil Pastels to get my inspiration on over the long weekend!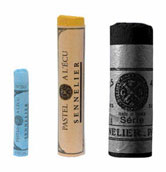 I'm thinking big thick Sennelier joints  and maybe even test driving some Holbeins.  Can't wait!  
Got another gig  for me music too.  My spiritual warrior  Christy M. is throwing a Brooklyn music party in late February and invited me to perform!  So now that my voice is slowly coming back, better get the ax out and start hittin'.  All 'bout the change yo!
 I'll share my new art works at end of the weekend… 
Blessings – T
p.s. – Aspiration – Sean "Diddy" Combs – Buy  My Art Yo!!!  Deck your halls, shake your walls!  Barter style – I'll buy some cologne!
Funny Diddy Story I just thought about (True Hollywood Story):
Was actually in Diddy's studio years ago with my bro' when we were writer/producers (Bro' is an AMAZING movie script writer now).  We were invited to his studio by one of his dudes.  His security checked us outside the studio & radioed up to clear us.  We entered the building, took the elevator up and who answers the door but…Puffy (at the time)  himself.  We gave the obligatory "what's up, we are so in so's".  He was very modest…said "I'm Puff" and gave us the pound.  
Let's see now – his studio, his GIANT ASS Oz like entrance door- and he's introducing himself to our  no-name having selves (like we didn't know who he was).  Imagine that!  
Then, we met with dude who invited us and he proceeded to play our tracks at literally whisper level so as he said –  no one would steal 'em.  But in retrospect, we realized he played 'em low volume so Puff wouldn't hear our sound and take it from him.
Funny enuf – in the meeting, one of the tracks we played was this joint we wrote and produced – the first track ever sung in studio by an unsigned Alicia Keys (and was then being played in late night rotation on NYC's Hot 97).  My how history might have changed for all if Puff heard that joint.  
Strange meeting…stranger world!   Path of an artist…continues…
Subscribe in a reader